In the year of 1885 what is now First National Bank of Sparta was started as a Private Bank.  In 1892 it was organized as a State Bank and on October 26, 1903,  it was converted into a National Bank, which is now the First National Bank of Sparta.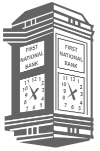 We have furnished banking services continuously since 1885, except during the banking holiday in 1933.  At that time we were permitted to reopen on the first day that any country bank was given that permission. 
We are known for our clock. The clock hung on the corner of our building for years. It was hit many times while hanging there. We moved the clock to the front of our building, where you can still find it hanging. 
We know that our success over the years would not be possible were it not for the trust and patronage of our many, many loyal customers.  We sincerely hope that the First National Bank of Sparta will have the opportunity and pleasure to continue its services for many years to come!